New strategies for the coffee by-products recovery as a new raw material for animal feed
The European iniciative LIFE ECOFFEED is intended to increase the value of spent coffee ground (SCG) and spent coffee capsules into high value secondary materials for dairy sheep and cattle feeding.
LIFE ECOFFEED will define and demonstrate the viability of a technology solution for the recovery of coffee by products as a new ingredient for animal feed.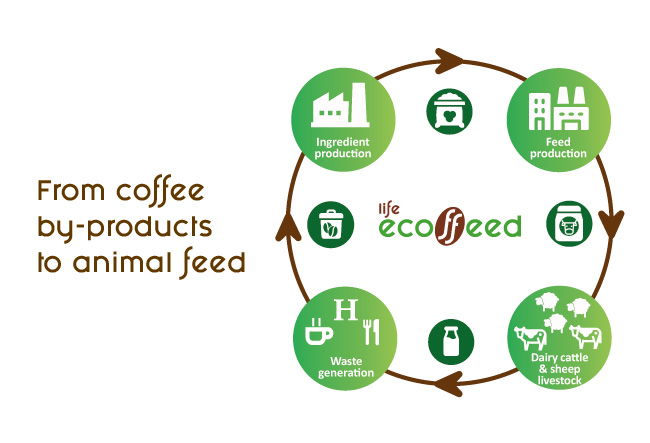 How LIFE ECOFFEED can contribute
The inclusion of spent coffee ground as ingredient for dairy animals feed in the project area will allow:
The substitution of curren raw material for feed production.

Diminishing the land occupation for feeding farm animals.

Reduction of methane emissions due to the beneficial effect of SCG in the rumial methanogenesis.
Lastes News
Ainhoa Ruano
Today, Friday 06 January, the nutritional efficiency tests of the experimental diets based on coffee grounds in BEHIALDE's dairy farm come to an end. We will continue to collect milk production data for another month [...]
Ainhoa Ruano
The experimental feed with 10 % coffee grounds is being fed to cows and the production parameters as well as methane production are being measured to compare with the results of another batch of 12 [...]
Ainhoa Ruano
The TV program "Tu tiempo con Roberto Brasero" of Antena 3 has broadcasted a report on the initiative of reusing spent coffee grounds as an ingredient in animal nutrition in which he interviews AZTI researchers [...]